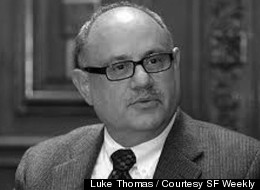 Larry Brinkin accused of child porn possession
My mouth dropped open when I read comments by Theresa Sparks
, Executive Director of the San Francisco Human Rights Commission upon the arrest of Larry Brinkin for possession of child pornography. Rather than give herself time to assess the situation, she reflexively blurted out:
"It's almost incredulous, there's no way I could believe such a thing. . . I support Larry 100 percent; hopefully it will all come out in the investigation."
Did she borrow that quote from Syracuse University basketball coach, Jim Boeheim, who not only defended assistant coach Bernie Fine of pedophile charges, but dismissed the accuser as a liar. Boeheim declared:
"This matter was fully investigated by the university in 2005 and it was determined that the allegations were unfounded. I have known Bernie Fine for more than 40 years. I have never seen or witnessed anything to suggest that he would been involved in any of the activities alleged. Had I seen or suspected anything, I would have taken action. Bernie has my full support."
A tape recorded phone conversation eventually surfaced in which Fine's wife admitted that the molestation had taken place.
My point is not to judge Brinkin's innocence or guilt in a blog post. It is rather to reflect on the lengths to which someone in Theresa Sparks' place might go in order to cover up a potential scandal that would sully the name of the Human Rights Commission and the gay community in general.
This to-hell-with-the-victimized-children boosterism makes me physically ill. Bytheway, one of the emails taken from Brinkin's computer commented:
"I loved especially the nigger 2 year old getting nailed. Hope you'll continue so I can see what the little blond bitch is going to get. White Power! White Supremacy! White Dick Rules!"
Theresa Sparks didn't bother to ask about the welfare of the toddlers who were raped and sodomized, or whether they're still alive. This woman appears incapable of protecting anyone's human rights.
She needs to step down from that Commission and pronto.
RELATED POST:
Jerry Sandusky, Race and the Pretense of Justice