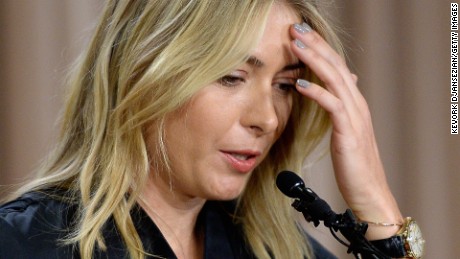 Fallen Tennis Star Maria Sharapova
How could I not feel sorry for tennis star, Maria Sharapova, the five time Grand-Slam winner? She explained last week that she had for ten years been taking a heart and pre-diabetes medication because of a family history of these diseases. But she had missed the email from the World Anti-Doping Agency (WADA), announcing that Meldonium was being banned as of January 1, 2016. The drug has been identified as a performance enhancer because it increases the amount of oxygen taken into the body, helping athletes recover faster.
But then I learned the damning truth.
A 2015 Russian study
found meldonium, also known as mildronate, in 17 percent of 4,316 urine samples tested from its athletes and those from Eastern Europe. Do they also have the exact same family medical history as she? It is manufactured by a Latvian pharmaceutical company for the treatment of circulatory issues and neurodegenerative disorders. But according to a report in
USA Today:
The drug has also been used — mostly in Eastern Europe and Russia — by athletes because it is thought to boost the body's oxygen uptake and aid endurance.
Besides, Ms. Sharapova had been sent five emails from the WADA on the subject.
Endorsements Make Sharapova Highest Paid Female Athlete
Maria Sharapova is the highest paid female athlete in the world. We can thank Serena Williams for the fact that the Russian, is, at least, not the best. Having lived in the United States since the age of 7, she could not even have gotten the drug through normal channels since it is not approved by the Food and Drug Administration for sale in the U.S.
Steve Simon, the
head of the Women's Tennis Association
called the disclosure of Sharapova's 10 year use of this performance enhancing drug, "an honest mistake." Condoned from the top, is it any wonder such sports are riddled with banned drug use? Maybe he should be fired too.